Delivering more than just light
• Soft, comfortable natural lighting
• Illuminate small spaces
• Use multiples to light larger area
• Integrated Solar Electric NightLight
• Available in round or square
• Brilliant, natural radiance
• Ideal for larger rooms
• Bold lighting for small spaces
• Integrated Solar Electric NightLight
• New Product!
• Available in round or square
Solatube 160 ISn Daylighting System: Ingenious Adaptability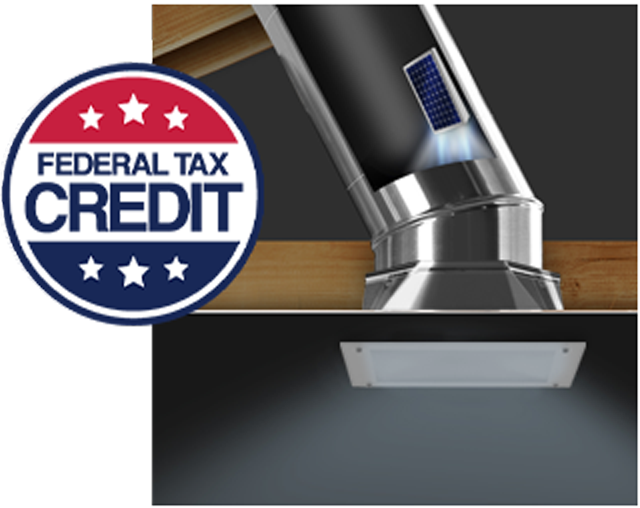 The Solatube 160 ISn is our most versatile product and one that's perfect for any room. Easily adaptable for spaces of any size, it offers a built-in solar-powered NightLight that emits a soft glow. The 160 ISn can be outfitted with ventilation, dimming and other options for a customized lighting solution that meets your needs. Best of all, it qualifies for a federal tax credit on purchase and installation.
    • Tube Size ≈ 10 in. (250 mm)
    • Potential Tube Length ≈ 20 ft (6 m)
    • Softer light, good for small spaces
Solatube 160 ISn Optional Add-ons
Solatube 290 ISn Daylighting System: Bigger is Brighter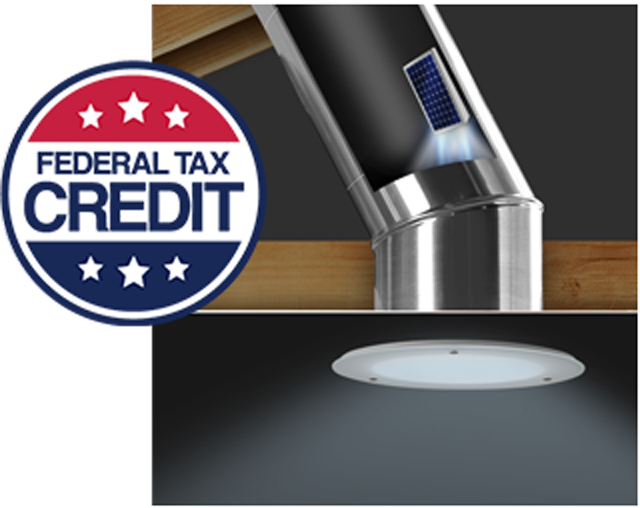 Boost the brightness in bigger spaces with the Solatube 290 ISn. Featuring a larger tube, it brings more light indoors for the brightest experience possible. When you want less light, the optional Daylight Dimmer lets you adjust daylight levels in just seconds. At night, the built-in solar-powered nightlight emits just enough light to help you navigate in the dark. The system and installation qualify for a federal tax credit, making it more affordable than ever to bring natural light into your home.
    • Tube Size ≈ 14 in. (350 mm)
    • Potential Tube Length ≈ 30 ft (9 m)
    • Maximum light, good for medium to larger spaces
Solatube 290 ISn Optional Add-ons
Daylighting Systems Optional Add-Ons
Make your system do more. With optional Solatube add-ons, you can add nighttime lighting, control humidity, adjust daylight levels, and maximize energy savings. They also integrate with the main daylighting system so they won't clutter your ceiling.
Ventilation Add-On Kit - For controlling humidity
Light Add-On Kit - For nighttime lighting
NEW Solar-Powered Daylight Dimmer - For adjusting daylight levels
Solatube Decorative Fixtures
Enhance the beauty of natural light with Solatube Decorative Fixtures. Made of tempered glass and available in more styles than any other manufacturer, you're sure to find one that blends beautifully with your home's decor. The hard part is choosing just one.
Once installed, the only part of your Solatube Daylighting System you'll see is the diffuser. Why not dress up your ceiling with one of our stunning Solatube Decorative Fixtures? They add an element of style and blend beautifully into any decor.
Square
JustFrost
Clean and contemporary Available for:
160 ISn / DS / DSe
290 ISn / DS / DSe
JustFrost
Stunningly simple frosted design Available for:
160 ISn / DS 
290 ISn / DS 
Square
OptiView®
Dazzling sky-view lens in a square design Available for:
160 ISn / DS 
290 ISn / DS 
OptiView®
Artful sky views
Available for:
160 ISn / DS 
290 ISn / DS 
AuroraGlo
White
Subtle beauty
Available for:
290 ISn / DS 
AuroraGlo
Bronze
Smooth rounded design Available for:
290 ISn / DS 
TierDrop
Classic, cascading style Available for:
160 ISn / DS 
290 ISn / DS 
   
Classic Vusion

TM
Every Solatube Daylighting System comes with our standard Vusion Diffuser,
which features a white rim and clear, dimpled surface with views into the tubing.
                                                                                       
Available for:
160 ISn / DS 
290 ISn / DS